While there might be a thousand articles out there on shopping for family vehicles, what's the best car out there for single folks? While the answer to that will depend on your lifestyle, many young singles want to take full advantage of the freedom that this time in their lives offers. This means adventure!
Whether you're staying in the Portland area and exploring your own backyard or embarking on a long road trip, you'll need a reliable, cost effective – not to mention stylish – car to get you where you need to go.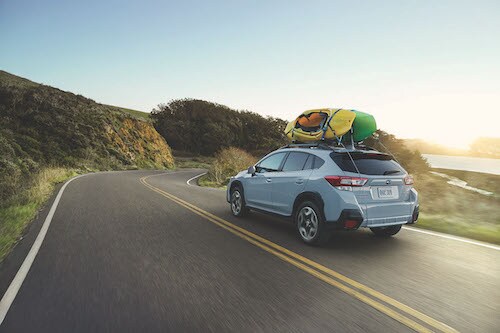 Which car you choose will depend on a variety of factors, not the least of which is personal taste, but we highly recommend a trip to your local Portland Subaru dealership to find your dream car. At
Royal Moore Subaru
you can shop for both new and pre-owned vehicles that will suit your needs.
Subaru remains incredibly popular among the single adventurer crowd because their cars offer four-wheel drive, great gas mileage, and plenty of space to carry your camping supplies, skis, surfboards, and all of the other gear you need to keep the party going year-round.
But there are many makes and models of Subaru out there, so which is the best for you? Here are a few favorites:
Subaru Crosstrek
A single person, living on a single income, should opt for an economical car, but that doesn't mean you need to sacrifice reliability or versatility. With all of that in mind, the Subaru Crosstrek is one of the best choices you can make. It's a compact vehicle with all-wheel drive, critical for off-road adventures in every type of terrain. Essentially a small SUV, the Crosstrek debuted in 2014 and its popularity has grown ever since.
Being a newer model, it's outfitted with the latest technology so you can enjoy even the longest road trips. It's also been lauded for the comfortable ride it offers; whether you're driving in the city or off-roading, you'll always be in for a pleasant time.
And of course, the Crosstrek offers plenty of room for you to bring all your adventuring gear with you. The rear seats fold down so you can pack a bicycle or two in there; it's also got a roof rack, should you want to strap a surfboard on top and head to the beach for a weekend.
Subaru Forester
Another great option if you're a rugged outdoor-type looking to get away for frequent road trips, the Subaru Forester comes standard with Symmetrical All-Wheel Drive and boasts 32 miles per gallon on the highway. Right there, that puts it ahead of similar cars in its class like Ford, Toyota, and Mazda.
Equipped with a huge amount of features, the Forester is an economy vehicle that feels like a luxury car. It comes with a heated steering wheel and memory seating so you can feel pampered, even during a long-haul trip.
And when you're enjoying a warm Oregon summer night, the touch of a button can retract the moonroof so you can take in the fresh air. Of course, for a single adventurer looking to bring some sporting equipment to the mountains or the beach, cargo space is crucial, and the Forester boasts 34.4 cubic feet of it.
Once again, this is ahead of similar cars in its class and so you can see why the Subaru Forester has become so widely popular.
Subaru Legacy
This one's popular not just among single travelers, but families as well, in part due to its wide array of safety features.
Featuring EyeSight Driver Assist Technology, the Subaru Legacy also boasts Blind-Spot Detection, Rear Cross-Traffic Alert, Reverse Automatic Braking, and a Rear-Vision Camera.
If you're always on the go, you don't just want a versatile, rugged car, you want a safe one as well. Subaru as a manufacturer prides itself on the safety of its vehicles, and the Subaru Legacy is one of the best examples of that.
This car also has a powerful 256 horsepower Subaru Boxer engine so you can really enjoy your time on the road. Earning 34 miles per gallon on the highway, the Subaru Legacy is another excellent car to take you and a couple of your friends on a skiing, hiking, or surfing adventure.
Subaru Impreza WRX
The last car on our list is the Subaru Impreza WRX, and it's even more powerful than the previous ones we've mentioned. With a direct injection turbocharged 305 horsepower Subaru Boxer engine, it handles like a dream due to the Vehicle Dynamics Control with Active Torque Vectoring. It's also got Track-Tuned Suspension and Quick-Ratio Steering so that your car will truly feel like an extension of yourself.
Of course, like the other cars that Subaru manufactures, safety is a top concern and the Subaru Impreza WRX was a 2018 IIHS Top Safety Pick+, the highest safety award the organization offers.
In addition to its advanced safety features, the Impreza also sports high-performance brakes to ensure you have all the control you'll ever need.
For the single adventurer looking to make the drive itself the adventure, the Subaru Impreza WRX is another great vehicle for road trips of every kind.
Buying a Subaru
All of the cars on our list are great choices, and whichever one you decide on, you'll find that you've chosen a safe, reliable, versatile vehicle that offers superior value. And hey – should you ever decide to settle down, Subarus make great family cars as well!
So whatever your needs might be, head down to your local Portland Subaru dealer and start shopping. In Hillsboro,
Royal Moore Subaru
is the perfect place to look for a brand new or pre-owned Subaru. We offer all makes, models, and years of Subaru so you'll have no shortage of choices when selecting a car.
Royal Moore Subaru also offers financing for our cars and maintenance, service, tires, and replacement parts for all models of Subaru. So head over today and start planning your next big adventure!