If you're looking for that perfect SUV crossover alternative because you're not into large, pricy, gas guzzlers that aren't much fun to drive, look no further because the 2018 Subaru Outback is your answer.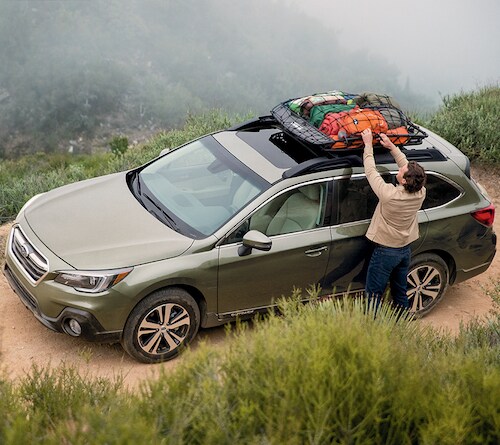 We're not just giving this vehicle props for it's incredible reliability, sensibility and value, we're giving it kudos for good looks as well. And, with the newer 2018 body style, you'll be hard pressed to find a wagon that stacks up to this one.
The 2018 added features make this car a winner for Subaru enthusiasts and drivers alike. There is a laundry list of reasons why the 2018 Subaru Outback should be your next ride, but here are the top five:
#5. Technology
With technology being an integral part of our personal, business and families lives, the Subaru Outback makes it a point to be adequately equipped to satisfy all of your technology needs. Subaru Starlink is the driving feature that allows you to connect with the outside world while you journey to your next adventure. The key components of Subaru Starlink are multimedia, navigation, and enhanced safety features.
On the technology front, the multimedia component allows you to stay connected to what's most important to you – like touch-free navigation when you're out of range or music and podcasts via your digital device, when you just need to zone out and focus on getting to your destination.
The multi-media feature is compatible with both IOS and Android devices to ensure that a multitude of drivers will benefit from these amenities. The hands-free voice command is an added benefit that allows you to connect to all of these features.
If temperature regulation is important to you, you'll appreciate the automatic climate control. This is handy in cooler and warmer climates alike and allows you to set a preferred temperature where the system will habitually regulate the temperature to maintain the perfect balance. The driver and front passenger can select the dual–zone option which allows for both to set their desired temperatures for added comfort. Now you can focus on the road and let your Subaru Outback focus on technology.
#4. Safety
Subaru knows how to do safety right. The 2018 Subaru Outback received 5 out of 5 stars in the National Highway Traffic Safety Administration's side crash test, frontal crash test, and overall rating, and comes in 4 out of 5 stars in the rollover test.
One of the newest features include Eyesight Driver Assist Technology and the safety and security feature via Starlink, with key components that comprise of an automatic collision notification, improved roadside assistance, stolen vehicle recovery, and remote services. Collisions happen when least expected so having the confidence that you're protected behind the wheel is essential. This feature monitors and warns you of traffic movement, like a car getting into your lane or you swaying out of yours.
Another big one is the Pre-Collision Braking feature which will automatically halt your car to a complete stop in an emergency situation. If you're a parent with young children, you'll appreciate knowing that the 2018 Subaru Outback also scored high for ease and safety of installing two child-safety seats.
Since safety is a concern with every consumer, feel rest assured that every 2018 Subaru Outback is equipped with a rear back camera, hill descent control, brake assist – for that extra security in a hard brake and brake override – which senses when a driver accidentally presses the brake and accelerator pedals at the same time.
#3. Design
The Symmetrical All-Wheel Drive system is just one of the reasons why the Subaru Outback was the company's best seller in 2017. This feature boosts power and stability, allowing the vehicle to maintain a perfect balance, while staying in control, especially on those off-roading adventures.
In terms of engine, the Outback has a base four-cylinder and a six-cylinder option so you can choose what is most ideal for your lifestyle. The four-cylinder is extremely efficient and received a high economical rating for fuel economy, while the six-cylinder provides more torque for drivers that require that extra boost to tow or carry heavier cargo.
With the newer design, drivers on the shorter side will appreciate the exceptional visibility in all directions just as much as the typical driver. And, compared to alternative crossover SUVs, the Subaru Outback off-road handling fairs well.
#2. Fuel Economy
The Outback will pay for itself with this cost-saving benefit. Picture a three-hour round-trip excursion where you can pump gas before you depart and not have to worry about refilling your gas tank until after you return. The four-cylinder model takes in 25 city miles and 32 highway miles with a fuel tank capacity of 18.5 gallons.
"What the Outback's four-cylinder engine lacks in acceleration it makes up for in fuel efficiency, according to the EPA. The spunkier 3.6-liter six-cylinder turned in the best performance on our real-world highway fuel-economy test of the vehicles reviewed here."
Car and Driver (October 2017)
#1. Value
The 2018 added features make this car a winner for Subaru enthusiasts and drivers alike and starts with an MSRP of $25,895. There is no question about it – the 2018 Subaru Outback will reap you the most benefits for the money, while fitting a broad range of drivers. From top-notch safety features to unbeatable technology, you'll get the best bang for your buck with the Subaru Outback.
"The 2018 Outback is one vehicle that fulfills many needs. Whether you want a crossover SUV that's fuel-efficient, boasts sterling reliability and high resale value, or has impressive levels of inherent safety, the Outback does it all. In places like the Northwest, driving a Subaru is almost a requirement."
Kelley Blue Book (2018)
With its extensive list of upgrades, the 2018 Subaru Outback really should be your next ride. The research and reviews speak for themselves; now go see what all of the hype is about.
Test drive yours today
and then drive it home happy.