You can't go wrong with a Subaru Outback or Toyota Highlander. These mid-size SUVs are capable of handling anything, from everyday transportation to weekend getaways with the family.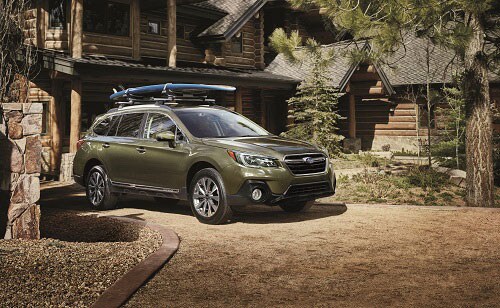 Off the bat, you'll notice that the standard Subaru Outback is a few thousand dollars less than the Toyota Highlander. There may be some features of the Highlander that give it that extra boost value, but you should always choose the vehicle that fits your lifestyle best as this is something that would be of use nearly everyday.
When test driving the vehicle at a
dealership
, keep in mind aspects that make it comfortable, reliable, efficient, and still fun to drive.
Here are a few pointers to help you decide which vehicle of the two is best for you.
Performance
The Subaru Outback has more power than the heavier Toyota Highlander. It comes standard with the Symmetrical All Wheel Drive, Subaru's own 4-wheel drive system. This all wheel drive makes for a great performance, better traction, and a highly responsive throttle for when you're taking the vehicle off road or through poor weather conditions.
The gas powered Toyota Highlander trims comes standard with front-wheel drive, but can be upgraded to all-wheel drive.
The Subaru Outback also comes with better fuel economy, clocking in at 25 mpg in the city and 32 mpg on the highway. The Toyota Highlander, on the other hand, gets an average 20 mpg in the city and 25 mpg on the highway. However, it's top-of-line models have an engine that halts at street lights to help save you fuel each trip.
The Subaru Outback base can tow up to 2,700 pounds. The Toyota Highlander can only tow up to 1,500 pounds on the standard trim level, but tows up to 5,000 pounds on the higher end trims. If you plan on camping, boating, or regular road trips, high capacity towing is definitely something you should consider during your vehicle search.
The Outback also offers the flat Boxer engine that allows for smooth operation, durability and handling. This engine also offers a low center of gravity that lets the Outback operate over obstacles that the Toyota Highlander may not be able to offer.
Safety
Safety is one of the most important features, regardless if there's only the drive in the vehicle or if it's the whole family. Both vehicles have high ratings for their safety features. Both 2018 models received high ratings with the Insurance Institute for Highway Safety and the National Highway Traffic Safety Administration. And both vehicles come with standard safety amenities such as anti-lock brakes, child door locks, and a stability control system.
The Highlander offers plenty of advanced features on the standard models, including a pre-collision system, automatic emergency braking, and pedestrian detection.
The Subaru Outback comes with its innovative Standard Eyesight Driver Assist Technology, which monitors traffic movement and optimizes driver performance. It also has a pre-collision braking feature and, on some models, offers the Subaru Starlink Safety and Security to keep your Outback safe.
Warranty
At
Royal Moore Subaru
, every new vehicle purchased comes with a lifetime powertrain warranty at no additional charge.
Outside of this dealership, both vehicles have the same 36,000 basic warranty mileage, as well as basic warranty years. Inquire with the dealership you're looking at to see what it has to offer.
Passenger Space
The Subaru Outback is an SUV that offers two rows of seating making space for up to five passengers. The Toyota Highlander has standard seating for up to eight passengers with 36.8 more cubic feet than the Subaru Outback.
However, the third row of the Toyota Highlander is not recommended for those with longer legs, so if possible keep that row reserved for the kids (especially on longer trips). This row also minimizes space in the cargo area.
Cargo Capacity
The Subaru Outback is much smaller, but does offer more cargo space. Its cargo space is 35.1 square feet versus the Toyota Highlander at 13.8 cubic feet in the standard models. This is comparable to a sedan trunk.
Choosing between the two will be a matter of considering what your prime needs will be for owning a mid-size SUV.
If the number of seats isn't a big deal, the Subaru Outback may be a right choice regardless if you're using the vehicle for long trips or everyday stops to the grocery store thanks to its large cargo space.
Entertainment
The 2018 Subaru Outback comes with a standard Android Auto and Apple Carplay as part of the Subaru Starlink Infotainment System. This technology provides the latest connectivity features so you can drive and have fun without the distractions that come with it.
The Toyota Highlander does offer two more speakers, providing a sound-filled entertaining ride.
Ergonomics
Efficiency is a big deal for some drivers. The Highlander has standard front power windows that open and close with one touch of a button, making it more convenient for drive-up windows, toll booths, and other situations similar situations. The Outback's windows don't open and close automatically the way the Highlander's does.
The Highlander also offers standard wipers that adjust speed and turn on/off automatically based on the amount of water and rainfall falling on the windshield. The Outback's wipers are manually adjusted.
On the Highlander you will also find heated mirrors to make for better visibility when driving. To get these on the Subaru, you will need an upgrade.
While the Toyota Highlander offers some standard features that the Subaru Outback does not, you will need to assess if it is worth the extra cost for the Highlander's base model.
The Subaru Outback comes standard with everything you need from a mid-size SUV. From running errands throughout the week to family adventure on the weekend, the Subaru Outback provides a more encompassing and better driving experience for you and your family. The Highlander offers more seats and an extra efficient and fun amenities that may be worth the extra cost if that is what you're looking for when you drive.
Subaru is known for its high value and reliability, and Subaru dealers earn recognition for the low cost to own a Subaru. Stop by your local
dealership
today and see for yourself what it has to offer. And no matter which SUV you think best fits your needs, go for a test drive first.