If you have been looking for a budget-friendly vehicle to sport around town with, you have probably visited Subaru dealers and multiple other places during your search. Car shopping can be a headache if you are not sure what it is you are looking for, but once you narrow down your search and decide to buy a sports car, things will start getting exciting.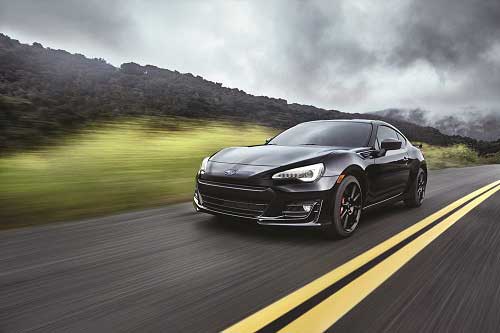 There are many different reliable sports cars on the market and Subaru dealers in the area have a variety of models and colors to pick from. If you like what you have seen so far with the Subaru BRZ, here is some other important information that can help you determine if it is the right car for your specific preferences.
The
Subaru BRZ
is a classy, lightweight sports sedan that has turned a lot of heads since it has been out and about on the road. It originally debuted in 2013 and it is the only car in Subaru's lineup that has rear-wheel drive.
The vehicle was developed in tandem with Toyota and has a twin, the Toyota 86, which was formerly known as the Scion FR-S. The Subaru BRZ has a unique suspension system that is geared toward a stable ride rather than one that's full of action. It comes with an automatic transmission or a six-speed manual transmission.
For the first three years that it was produced, the car had a 200-horsepower engine, but in 2017 it was upgraded to a 205-horsepower engine with 156-pound foot of torque. This increase in power has drivers all over the country stepping on the gas and loving every second of it.
The amplified horsepower is just one of the changes, too. The Subaru BRZ has a revised suspension that makes it easier to handle while providing a smoother ride for everyone in the vehicle. The car features front and back Brembo brakes, as well as Sachs ZF shock absorbers. The biggest change from earlier models is the grip; it is impeccably controlled, which has some people saying it is a delight to handle and drive.
A ride in a Subaru BRZ makes each passenger feel like they are gliding on the road toward adventure. This, combined with the stunning aesthetics on the inside as well as the outside, makes this vehicle a sports car that can't be missed.
Black 17-inch alloy wheels, a slim but sleek spoiler, wide tires, and a variety of classic colors are just some of the reasons that people love the Subaru BRZ.
There are LED lights for headlamps and taillights and the focal point on the inside is a smaller, leather-wrapped steering wheel with audio system and instrument thumb controls on the left and right.
So, is the Subaru BRZ right for you?
Buying a sports car is a big decision and you may be vacillating on what to do. If you have always dreamed about owning a sporty car, here are some reasons why the Subaru BRZ might be the right choice.
1.

You're looking for something sporty and stylish
In a world that is dominated by minivans and SUVs, the Subaru BRZ will help you stand out from the crowd. Functionality is important, but finding a sports car that makes you stop and stare is one of the most exciting parts about buying it as your car shows your personality. If you are feeling like it is time to branch out of your "blend in with the crowd" tendency and you want to express your individuality, the Subaru BRZ gives you the perfect opportunity to do just that.
2.

You want something that won't break the bank
You might have dreamed of owning a Ferrari, but not everyone can afford that kind of luxury. Purchasing a budget-friendly Subaru BRZ will give you the opportunity to release your inner Ferrari and cruise around in style and comfort knowing that you did not have to write a hefty check that you might regret later.
3.

You want a car that will last
Your Subaru will hold value so should you choose to sell it down the road, you will be able to sell it easily. If you cannot part with it, your sports car will last for a long time and like many high-performance sports cars, it could become something that will be sought after by collectors and other car enthusiasts.
Life is full of stress and it's important to remember to cut loose and have a little fun occasionally. What better way to do that than with a sports car like the Subaru BRZ? Once you get behind the wheel, your heart will soar because you will be able to revel in the little details that make driving a sports car fun. The magic of a sports car is only known by someone who experiences it first hand through ownership.
Ready to start shopping and test driving?
We know that shopping for a new sports car can be a mix of excitement and confusion on what to choose, but our team at Royal Moore Subaru focuses on helping each client get the questions answered that they need to make a well-informed decision. We provide excellent service throughout each step of the vehicle process.
We are proud to be one of the Northwest's leading
Subaru dealers
and we are ready for you to come and test drive the Subaru BRZ.
Once you get behind the wheel and click your seat belt, get ready to hit the g;it will be just a matter of time before you fall in love and are ready to sign the papers to take it home and make it officially yours.
Contact us
today to schedule your test drive! We can work with you to find the financing option that works best and we will walk you through the warranty we offer. We look forward to serving you soon.