No matter what, every car will lose some of its value each year you own it. However, how much value your car will lose depends on the brand and model you buy.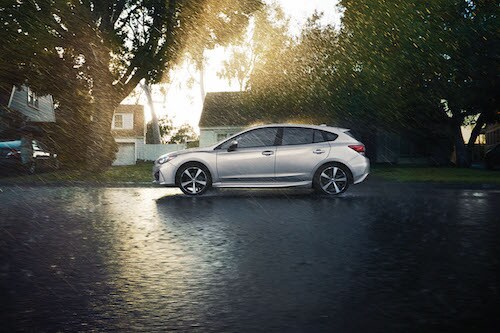 Subaru vehicles are well known for having great resale value. In fact, their models retain value better than most other non-luxury brands. It is one of the many attributes, in addition to the signature all-wheel drive and the lifetime powertrain warranty, that sets Subaru apart from other brands.
Though it's easy to focus on other factors like price and financing when you're shopping, some think that resale value is one of the most essential criteria to consider when purchasing a car, and they're right.
So, you may be wondering, what exactly is resale value, and why is it important?
As the name suggests, resale value is a term that refers to how much money your car will be worth by the time you sell it as used or trade it into a dealer. Although you may not be thinking about it at the time of purchase, you will most likely be replacing your car within a number of years. You may have a car for ten years instead of five, but either way, you will probably not be driving it until it completely breaks down.
When you do trade in or sell your car, you will want to make sure you can receive a good amount of money back because that will have an impact on your total cost of ownership. Ergo, a car with a higher resale value ultimately saves you more money in the long run.
Not to mention that deprecation, or loss of value, is typically a primary expense during the time you own your car. Especially within the first five years of ownership, it's actually a greater expense than maintenance, insurance, or fuel.
You can and should also maintain the value by taking good care of your car, but buying a vehicle with a great resale value in the first place is the most important initial step. It can be one of the simplest ways to save you money as well.
If you are torn between a few different models, just know that the one with the highest resale value is your best bet. And it can give you an indication of the overall quality of the vehicle. For instance, typically the lower the maintenance cost of the car, the higher the resale value. This is why brands with good reputations, like Subaru, usually have higher resale values.
Over the years, Subaru vehicles have consistently won many of the Kelley Blue Book Best Resale Value Awards. The Kelley Blue Book projections of resale value have proven to be incredibly accurate.
In order to determine the winners of the Best Resale Value Awards, they apply an expansive research and analysis process, looking at sales data, current vehicle data, market conditions, expectations of the current economy, and more. The Best Resale Value Awards are some of the most prestigious, and therefore most sought-after, honors in the automobile industry.
This year, Kelley Blue Book awarded the Subaru Impreza the best resale value, in the category of Best Compact Car, for the fifth year in a row. The 2018 model has a resale value of 51.6% of the Manufacturer's Suggested Retail Price (aka the MSRP) after 36 months, and 34.3% after 60 months. Even after the total redesign with many great updates, those percentages stayed as high as ever, which is very impressive and a great sign of Subaru's overall commitment to resale value.
The 2018 Impreza is also the most affordable all-wheel drive vehicle in its class. And this year the Subaru WRX won the Best Sporty Compact Car for the fourth year in a row, with 57.8% resale value after 36 months and 46.2% after 60 months.
Kelley Blue Book also made sure to highlight the WRX 268 turbocharged horsepower, which sets it apart. As an additional honor, the 2018 Subaru WRX is also listed as one of the Top Ten individual vehicles with the best resale value, and was on the Top Ten lists for the 2017 and 2016 awards as well.
An average vehicle will be worth about 33% of their MSRP after five years or 60 months, but those vehicles on the Top Ten list will be worth an average of 51%. Overall, the cars on the Top Ten list will hold their value better than 95% of other new vehicles coming out that year.
Kelley Blue Book also highlights the benefits these vehicles have that add to their great value, including their all-wheel drive, fuel efficiency, reliability, commitment to safety, and the affordable starting prices.
The fact that Subaru vehicles are consistently winning these awards is an indication of how great of an investment they are, especially when coupled with the lifetime powertrain warranty. That warranty provides protection for your car for as long as you own it.
The combination of a great resale value and a lifetime powertrain warranty ensures you're getting the best car for your money from the time you purchase it until the moment you trade it in or sell it.
At the Royal Moore Subaru dealership, a lifetime powertrain warranty is included with every new Subaru vehicle purchased, free of charge. Unlike some warranties that come with hidden catches, there is no extra maintenance required, and you do not have to get your service exclusively from Royal Moore Subaru. You can find
more information about lifetime powertrain warranty here
.
Resale value is a factor that too many people overlook or just not realize how important it actually is. That's a mistake that will end up costing money down the line.
It is always wise to consider the future when you're purchasing a car. Even if you think you've found that perfect dream car now, you never know what will happen within a few years. But by thinking of the long term, you will wind up with a much smarter investment.