Customers at the
Subaru dealership
of Portland have come to rely on the reliability, resale value, and safety of this famous brand. While they hope for the advantages that Subaru has afforded its drivers for decades, customers today also demand access to the latest in automotive technology to keep their rides safe and enjoyable.
For years, the Subaru Legacy has been one of the most popular mid-sized cars that the Subaru line has to offer. Since the first Legacy was released in Japan in February 1989, this car has developed a reputation for reliability, safety, and ruggedness and has become Subaru's flagship.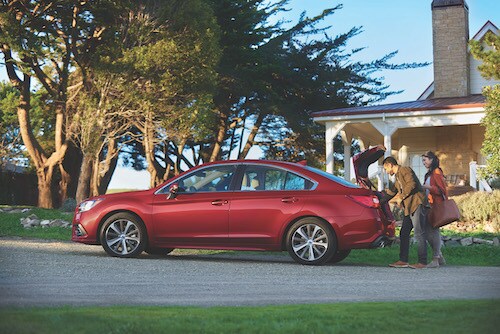 While millions of Legacy cars have been sold in the nearly 30 years since the original debut, the transformed 2018 model of this extremely popular vehicle might just be the best version yet.
The car still boasts all of the features that it's become known for and it has also been upgraded to meet the exacting standards for quality, convenience, and safety that the public has come to expect.
Here are some of the new features you can expect if you choose the 2018 Subaru Legacy as your next ride from your dealership here in Portland:
Improved Handling
The 2018 model of the Subaru Legacy has had a number of tweaks made to the suspension that offer improved handling and a smoother ride. The Subaru Legacy has always been known as a powerful car. It's one of the only mid-sized sedans that offers all-wheel drive as a standard feature.
This, of course, is an advantage that the Legacy has always had, but Subaru has upped their game for 2018 by offering a more responsive engine with smoother acceleration than ever before.
When shopping for a Legacy, you'll have two options depending on your personal needs: a 175-horsepower 2.5L 4-cylinder BOXER engine or an even more powerful 256-horsepower 3.6L 6-cylinder BOXER engine. Both feature the Lineartronic CVT, Subaru's patented transmission that helps to maximize fuel economy and offer smoother automatic transmission shifts. The Lineartronic CVT also boasts a manual mode as a standard feature, should that be your preference.
Unlike many of its competitors, the CVT does not make use of gears, instead using pulleys connected by a steel belt to shift gears. This makes for one of the smoothest driving cars out there; the 2018 model also comes equipped with Active Torque Vectoring in its Symmetrical All-Wheel Drive System. This feature makes the Subaru Legacy, already famous for its easy handling, even more of a breeze to drive.
Improved Safety Features
As a mid-sized car, the Subaru Legacy has always been popular as a family vehicle and for that reason, safety is forever at the forefront of the designers' minds. You can purchase any Subaru Legacy model from any year and you will have a safe vehicle, but the 2018 model has been upgraded for even more superior safety features.
The Steering Responsive Headlights, which turn whenever you turn the wheel, have been added to the 2018 model. This improved visibility can prove to be critical when driving at night or in inclement weather.
Another feature that is new for this year is the reverse automatic braking; warning you if there are any obstacles in your way as you backup the vehicle. If you so choose, you can opt for the limited model with EyeSight, which uses the cameras already built into the car to offer High Beam Assist, which will automatically switch your high beams on or off depending on lighting and traffic conditions.
Another great benefit of EyeSight is its warning system that alerts you when a vehicle pulls away from in front of your car; this will prevent you from becoming distracted when you sit behind other cars at a green light. A simple, but brilliant new feature that will help to keep you and your family safe on the road.
Modern Technology Made Easy
Of course, when the first Subaru Legacy was introduced in 1989, many of the technological features we take for granted in cars these days were not even a dream in the minds of the developers.
Nevertheless, Subaru as a brand strives to stay on the forefront of modern automotive technology and has equipped the newest vehicles with many features to reflect this. In the 2018 Subaru Legacy, the touch screen that has become a standard feature in the past few years has been updated for improved ease of use.
The car comes standard with a 6.5 inch screen, with an 8 inch version available as an upgrade. This screen makes use of striking color graphics to make the menu simple to navigate; you can download a number of apps, such as Yelp—so you'll never have any trouble finding a good restaurant—into your onboard computer.
Your Subaru Legacy will also come with a TomTom navigation system and dual USB ports so you'll can be entertained by your favorite tunes while you find your destination with ease.
For 2018, the Legacy has also introduced support for Apple CarPlay and Android Auto. The climate controls in the vehicle have also been changed to a different location to render them easier to use, along with a few other cosmetic changes that make the Legacy just a bit more stylish than it was before.
A More Elegant Appearance
Aesthetic concerns do matter when shopping for vehicles, and Subaru is fully aware of this. The 2018 model has been redesigned with a new look, featuring a wider grille and new bumper design.
The car comes with two standard colors to choose from when buying from your local Portland Subaru dealership: Crimson Red Pearl and Magnetite Grey Metallic. With the 2018 Subaru Legacy, even the names of the colors sound both classy and futuristic. The interior of the car has undergone a few upgrades as well, such as a redesign of the steering wheel to make the vehicle just a little bit more fun to drive.