Available now at the Royal Moore Subaru dealership in Hillsboro, the 2018 Subaru WRX is a highly rated, very affordable sports sedan that has received many accolades. Among the way, these include the 2018 ALG Residual Value Award,—which means it retains its value better than any of the other vehicles in its class.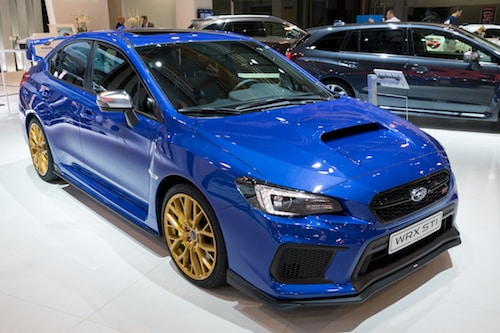 But that's not all! It was named both the longest lasting turbocharged all-wheel drive vehicle in its class and the fastest-growing vehicle in its class over the past ten years. Kelley Blue Book named the WRX one of the top 10 cars with the best resale value, and also named Subaru itself the best performance brand.
Accolades and affordability are great place so start when deciding on your next car, but so much else matters to. So, what are the standout features that may make the WRX the right choice for you? Read on to find out more.
1. EyeSightÒ
Available on the WRX Limited models, EyeSightÒ Driver Assist Technology is a favorite feature among many and is the culmination of everything Subaru engineers know about safety. EyeSightÒ's system uses cameras that are near the rearview mirror to scan for potential dangers. With EyeSightÒ, the WRX was named a 2018 IIHS Top Safety Pick+, the highest possible safety rating from IIHS.
2. STARLINK Multimedia and Entertainment Features
STARLINK Multimedia is a feature that is available for all WRX models. STARLINK offers a convenient way to manage phone calls, navigation, and entertainment. It's compatible with iOS and Android operating systems, so all you have to do is download an app and connect your devices and you're all set! Then you can easily access your music, podcasts, and audiobooks to listen to as you drive.
And controlling it is a breeze too, which ensure you'll be look at the road and not your phone. You can either use the touch-screen or voice commands to manage any calls, navigation, and entertainment. Additional fun features include three front row LCD monitors, six speakers, MP3 decoder, Bluetooth wireless phone connectivity, Sirius XM radio, and a CD player because we all still have these even if we stream most of the time.
3. Symmetrical All-Wheel Drive
Obviously in an ideal world no one would ever have to encounter less than perfect driving conditions. Sometimes, however, you may find yourself having to drive on dirt roads, gravel roads, potholes, lots of hills, or in an area where you have to make a lot of sharp turns.
Available on all WRX models, the Symmetrical All-Wheel Drive is a feature that will help you to feel more comfortable and confident if you find yourself in those rough conditions. As the name suggests, what this means is that the engine power is sent to all four wheels, for a balanced distribution, which provides the utmost stability and maximum traction.
Meanwhile, most other cars only send engine power to the front or rear wheels, which can throw you off. This equal distribution of power also improves fuel economy.
Furthermore, in difficult conditions the Symmetrical All-Wheel Drive ensures that the power will instinctively be sent to the wheels with the best traction. Going around tight corners has never been easier, and it also provides a great grip in weather conditions like snow and rain, which reduces the risk of hydroplaning. Now you won't have to worry as much about off-road detours and inclement weather!
4. SUBARU BOXERÒ Engine
The Symmetrical All-Wheel Drive isn't the only standout feature that will help you to feel very confident while driving. Standard on all WRX models, the SUBARU BOXERÒ Engine is the result of over four decades of intelligent performance.
The engine gets its name because the pistons move horizontally toward and away each other, just like two boxers do when they're in the ring! This makes the engine run smoother than the typical V-shaped engines found in most cars. The flat, low profile of the engine means it has a lower center of gravity, which helps you to feel more stable and in control. It also provides powerful acceleration and improves fuel economy.
5. Space and Storage
A major benefit of the WRX is the amount of space it offers, both for seating and for storage. At approximately 12 cubic feet, the trunk is very spacious, and the standard 60/40 split fold-down rear seats provide an option for even more room.
The 2018 models also have added standard roof rack brackets so you bring along even more skis, kayaks, and bikes on your next adventure. For extra little room throughout the car, there are also rear, passenger, and driver door bins, as well as front and rear beverage holders.
You also won't have to worry about anyone feeling cramped in the WRX because it has the largest passenger volume among all-wheel drive vehicles in its class. It offers enough seating for a maximum of five people at a time.
Thanks to its extra headroom, everyone should be able to sit comfortably, even the tallest passengers. This makes the WRX perfect for carpools, road trips, or just convenient everyday extra space for families and friends. Visit your nearby Subaru dealership in Hillsboro and see for yourself!
6. Wheels
The standard WRX has 17-inch wheels, while 18-inch wheels are available with the WRX Premium and the WRX Limited. Now you can own a car with a covetable aesthetic look for an affordable price. Larger wheels can also help provide even more grip, so they're stylish and added safety!
7. Temperature and Convenience
The WRX Limited and WRX Premium have a great extra feature of heated front seats, another luxury you'll find in this car for a great value. Every WRX also has an easy to use automatic temperature control system and air conditioning. Other beneficial features found in all WRX models include a power moonroof, auto-dimming rearview mirror, and remote keyless entry.
Does the WRX seem like the right car for you? For more information, including pricing, photos and videos, customer service reviews, and more, visit your
Subaru dealership in Hillsboro
.