Subaru has always been known for its reliable and safe vehicles. If you are in the market for a new ride and scouring Subaru cars for sale, you may be torn between two best sellers: Subaru Impreza and Subaru Legacy.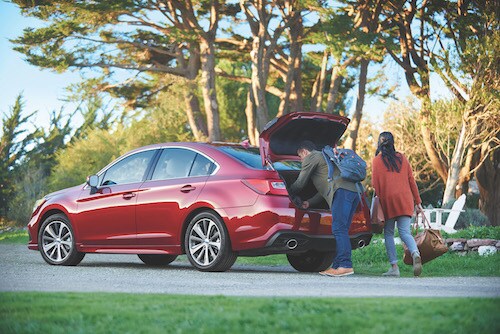 A compact sedan or a mid-sized one? Which should you go for? Let's help you in this decision by comparing these vehicles:
Trims & Budget
Carefully delving into all the trim options offered will allow you to narrow in on the one that will best suit your budget and aesthetic. After all, you don't want to be overpaying for features you don't want, and you do want to choose the model that complements your personal style.
The 2018 Subaru Impreza comes in four trim options: 2.0i Sedan, 2.0i Premium Sedan, 2.0i Sport Sedan, and 2.0i Limited Sedan. Each of these also has a hatchback version with 5 doors.
On the other hand, the 2018 Subaru Legacy offers five trim options: 2.5i, 2.5i Premium, 2.5i Sport, 2.5i Limited, and 3.6R Limited.
Most of the features are similar, but the Subaru Legacy 3.6R Limited stands out with its 256-hp Subaru Boxer engine, LED steering responsive headlights, and dual exhaust outlets. But you get the best when you choose the top-of-the-line option.
The 2018 Impreza starts at $18,495 and goes up to $24,695 while the 2018 Legacy starts at $22,195 and goes up to $31,945, going to show that Subaru Impreza is clearly the more affordable option.
Exterior
Impreza has a simple design featuring flowing lines and an expressive front with automatic headlamps and windshield wipers. While all the trims come with 16 or 17-inch wheels, the Sport version comes with 18-inch alloy wheels.
Subaru Legacy features a more modern, sportier look with a wider grille and a new tailpipe design to accommodate the exhaust pipe. The Sport version also comes with 18-inch alloy wheels and a power moonroof.
Space
Subaru is focused on comfort and both the Subaru Impreza and Legacy claim to have the most passenger volume when compared to competitors. While the Subaru Impreza 2.0i Sedan offers 99.8 cubic feet of passenger volume, Legacy offers slightly more with 104.6 cubic feet, ensuring that all passengers have ample space to enjoy a comfortable journey.
For your cargo needs, Subaru Impreza has a trunk storage space of 12.3 cubic feet and the Legacy has 15 cubic feet of space. However, if you opt for the hatchback version of Impreza, you get to enjoy cargo space up to 20.8 cubic feet.
Subaru Impreza provides ample leg room with 43.1 inches compared to Legacy, which offers 42.9 inches, but the latter has more head room with 40 inches as opposed to Impreza's 39.8 inches.
Overall, the Subaru Legacy is larger than the Impreza and wins hands down when it comes to size. But they're both roomy when compared to other brands.
Interior
The 2018 Subaru Impreza is spacious and blanketed with high-quality material. Its high-mounted, cushy seats make it easy to enter and exit and all the trims come with cloth upholstery, while its Premium version features a leather trim.
Subaru Legacy has similar interiors with high, thin roof pillars. However, it's Premium version comes with an all-weather package with heated front seats, making it an ideal choice for all-season driving.
Both cabins assure a noiseless ride, especially the Legacy. It comes equipped with a noise-reducing laminated front side glass and more aerodynamic side mirrors.
Both premium versions also come with a dual-zone automatic climate control feature allowing the front passengers to set their own temperature.
Performance
Subaru Impreza and Legacy are both built for long rides and so it should be no surprise that 96% of Impreza and Legacy vehicles sold in the last 10 years are still on the road today.
They both come with the Symmetrical All-Wheel Drive and durable Subaru Boxer engine, which make them exceptionally stable, responsive, and fuel-efficient vehicles. This allows the Impreza to get up to 38 MPG highway, while the Legacy tops out at 34 MPG highway. Yes, the Legacy dips a little on efficiency, but these are top numbers either way.
On the other hand, Legacy tends to generate more horsepower as its base engine is a 2.5 L 4-cylinder, while Impreza has a 2 L 4-cylinder engine.
Infotainment
Both vehicles are equipped with the STARLINK Multimedia system. This is compatible with Apple CarPlay and Android Auto. It offers wireless pairing and hands-free smartphone operation along with a voice-activated navigation system and an all-new 8-inch touchscreen.
The Legacy features a Harman Kardon premium audio system with 12 speakers, which happens to be more than the Impreza, which comes with 8 speakers.
Safety
You can be assured that when viewing Subaru cars for sale, safety is a priority. Subaru takes pride in its commitment to safety and rightly so.
Want Subaru EyeSight Driver Assist? This comes standard in all models, but the base model. This technology keeps you safe by monitoring traffic movement, optimizing cruise control, and warns you when you aren't in your lane.
Apart from this, both vehicles also feature Blind-Spot Detection, Rear Cross-Traffic Alert, Rear-Vision Camera, and Reverse Automatic Braking. They promise drivers better vision with LED Steering Responsive Headlights which turn with the direction you're steering to help you see the corners more easily. To keep passengers safe, Impreza comes with 7 standard airbags and Legacy with 8, offering additional protection in the event of a crash.
Meanwhile, Subaru Starlink Safety and Security offers Automatic Collision Notification, Enhanced Roadside Assistance, and Stolen Vehicle Recovery, giving you peace of mind.
We understand why you're torn between the Subaru Impreza and Subaru Legacy. But now that you know how they differ, the only way to make your final decision between these Subaru cars for sale is to
come in for a test drive
.