Subaru has long been associated with an environment-friendly, wilderness lifestyle. Subaru owners are more often than not people who have a strong connection with nature and adventure sports, and the Subaru brand has been built around these ideals.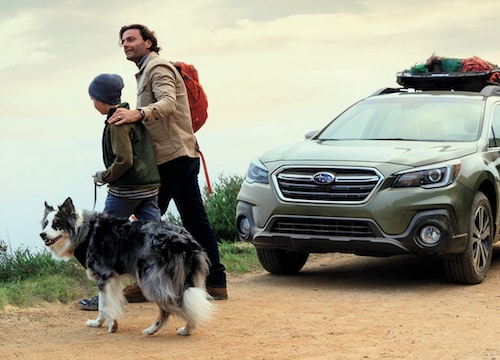 The Japanese car manufacturer produces one million vehicles a year and still manages to
send zero waste
to landfills. In 2008, they became the first car company to produce an all-electric vehicle with the r1e, launched and sold only in Japan.
With all these points in mind, it might be natural to expect that Subaru would be a contender in the electric or hybrid vehicle category, a space which has seen a surfeit of car manufacturers rushing in and launching numerous in the recent past.
However, it might be surprising to note that your local
Subaru dealership
doesn't have any offerings in the electric or hybrid vehicles category at present.
That is about to change, as the company's first plug-in hybrid has now been announced and is expected to launch later in 2018, and an all-electric vehicle is on its way as well, hitting the road by 2021.
There's meticulous planning and strong reasoning behind the decision to take it slow and steady in the race for electric vehicle dominance, and we're here to explore that detail.
The Race to Electrify
Larger car manufacturers are already charging into battle in the electric vehicle space, a category that may well turn out to be the game-changer for the future of the auto industry.
Volkswagen AG already has 17 battery-powered models available while Bayerische Motoren Werke (BMW) AG has 13 plug-in vehicles in the market. Even more traditionally conservative manufacturers like GM are rushing in with 20 all-electric vehicle options slated for launch by 2023.
Subaru, however, has a different logic, and it certainly makes business sense for a company that, despite its impressive range of quality, top-selling cars, is still relatively smaller compared to the global behemoths.
"If we put one (an EV) out now, we're going to be competing in the teeth of the market with everybody else," Subaru U.S. Chief Executive Officer Tom Doll recently told
Bloomberg
. "This way, we can let them kind of sort it out, then we can come in."
To put it another way, after the initial rush and heavy costs on research & development that wealthier companies can apportion, Subaru would be well-placed to enter the market at a time when the costs of the technology are lower and focus on producing the best possible vehicle option.
Joint Ventures are the Way Forward
Subaru has an in-house electrification program, equipped with some of the finest engineers. However, a large portion of Subaru's hybrid tech will come from Toyota, which owns 17 percent of Subaru's shares. Indeed, Subaru has a long-term partnership with Toyota, and in 2017, joined a new EV venture formed by Toyota and other manufacturers. EV Common Architecture Spirit Co also counts among its members Mazda, Suzuki, minicar specialist Daihatsu, supplier Denso Corp and truck manufacturer Hino.
Subaru's Chief Technical officer, Takeshi Tachimori, believes that there are a lot of benefits to be gained by this venture, and five of the company's engineers have been assigned to work on it.
"If there is a basic technological foundation, that would help carmakers not waste resources," he said. He believes Japanese car companies could learn a lot from each other in the new world of electrification. "Every carmaker has a sense of urgency," Tachimori said. "We don't know how battery technology will evolve or how we should handle it or what would be the best way to use it as an energy source. Carmakers are still trying to figure out what a basic EV structure will look like."
Subaru Electric & Hybrid Vehicle Plans
Subaru is soon set to make its presence felt in the world of electric and hybrid vehicles, starting with a plug-in-hybrid, the Crosstrek Hybrid, set to be launched at the end of this year.
For the Crosstrek Hybrid, Subaru will use the same plug-in powertrain found in the Toyota Prius Prime. "For our plug-in hybrid to be introduced this year," Tachimori said, "we have used Toyota's technologies as much as possible."
However, it will retain Subaru's signature flat-4 engine. Further details on specifications are to come. Tachimori said that the plug-in hybrid will initially be launched in all the states which have adopted California's zero-emission vehicle regulations, so get ready to visit Subaru dealerships in Connecticut, Maine, Maryland, Massachusetts, New Jersey, New York,
Oregon
, Rhode Island, and Vermont.
The partnership with Toyota helps Subaru offset major development costs, also enabling it to focus on its self-owned electrification project. Subaru is slated to release an all-electric vehicle by 2021, with plans to manufacture and launch the vehicles in Japan, and also import them to North America, where Subaru does approximately 60% of its sales.
The company is understandably cautious on the burgeoning, yet relatively unknown category. "I'd rather be last in and get it right," said Doll, "than be first in and destroy my brand image and reputation."
The demand for electric vehicles is still relatively low. Globally, only one out of 50 vehicles are battery-powered, with demand outside markets like China and, to an extent, North America, is weak. Electric vehicle technology has high development costs and supporting technology like charging stations are rare. At present, very few electric vehicle manufacturers are managing to make profits, unless positioned at the high end of the price spectrum.
However, demand is increasing, and emission mandates are getting stricter. Electric vehicles could very well be the transportation of the future, and Subaru is well poised to take sensible steps when it comes to this category.