Whether you are someone who loves going for those spontaneous road trips or generally travels with a large family, Subaru SUVs are a joy to ride! So, if you are looking for an upgrade or are on the lookout for your next SUV, the 2019 Subaru Ascent needs to be on your consideration list.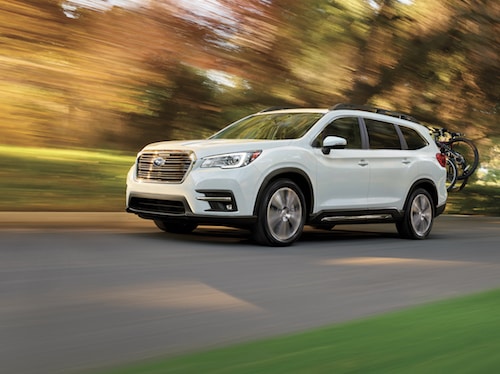 A powerful three-row crossover, the all-new 2019 Subaru Ascent is the largest vehicle Subaru has ever made. The 2019 Ascent models start at $31,995 and comprise of Ascent, Ascent Premium, Ascent Limited and Ascent Touring, letting you choose the Ascent that perfectly suits your budget and needs.
From Ice Silver Metallic and Crimson Red Pearl to Abyss Blue Pearl and Cinnamon Brown Pearl, this Subaru SUV comes in a myriad of colors.
Here are six reasons to fall in love with the 2019 Subaru Ascent:
Spacious Interiors
This Subaru SUV comes with spacious interiors and versatile seating options, allowing 7 to 8 passengers to fit comfortably. You can fit 8 with the option of second-row bench seating and 7 without it. The roomy interiors come with 153.5 cubic feet of passenger volume and abundant storage space.
Thanks to its large sliding doors and a relatively low step-in height, you can get in and out of the car with ease. The seats are wide and well-padded, ensuring high level of comfort throughout the journey.
The Premium and Limited models also come with a 54-inch sliding panoramic moonroof to enjoy the benefits of sunlight and fresh air. Not only does the 2019 Subaru Ascent ensure there is ample space for people and their belongings, but with a whopping 19 cupholders it makes room for your beverages, too.
The 2019 Subaru Ascent leaves nothing for surprise as far as visibility is concerned. Its rear-view mirror has a camera to maintain contact on what's going on behind you and provides extra safety while reversing. It also has a 180-degree front camera that assures you a clear, unobstructed path ahead.
Powerful Engine
The 2019 Subaru Ascent boasts of a new 2.4-liter turbocharged 4-cylinder engine, which pumps out a 260 horsepower and 277 lb.-ft. of torque; this happens to be more than most of its competitors. The engine is boxer-style and sits low to the ground, keeping the center of gravity low. What's more, it has a big 19.3-gallon fuel tank, making it a fuel-efficient car.
It comes with large 20-inch wheels and is offered only in an all-wheel drive configuration. If you are planning to go off-roading or are driving on slippery surfaces, it lets you activate the X-MODE, which comes with 8.7 inches of ground clearance and optimizes the Symmetrical All-Wheel Drive system and Hill Descent Control for maximum traction and stability while driving on difficult grounds.
Infotainment
The 2019 Subaru Ascent is equipped with a good infotainment and connectivity system. It has a 6.5-inch touchscreen which runs
Subaru STARLINK™ Multimedia
, satellite radio and has several embedded apps, including Apple CarPlay and Android Auto connectivity.
Now, you don't have to worry about keeping your kids entertained thanks to this Subaru SUV, which comes with numerous sources of entertainment.
There are up to 8 USB ports spread across the car to help you keep your devices charged. This is also the first time a Subaru is coming with 4G LTE wifi, keeping you connected on the go!
Safety Features
Subaru is known to incorporate advanced safety systems in its vehicles. Moreover, as the 2019 Subaru Ascent is a family-oriented car, the makers have taken the safety features a notch higher this time. It features a range of features such as emergency braking, adaptive cruise control, forward collision warning, and active lane control among others.
The vehicle has a standard EyeSight system, which acts as an extra set of eyes on the road. It monitors traffic movement, warns you when you are not driving in your lane, and resorts to automatic emergency braking if the need arises.
If you're someone who has a habit of checking your phone when stuck in traffic, Subaru's Lead Vehicle Start Alert signals you when the traffic starts moving.
We are always wary of the blind-spot in the car mirrors, but this Subaru SUV has you covered. Its Blind-Spot Detection system warns you if it senses a vehicle in your blind spots.
So, with all these safety systems in place, be rest assured that you and your family are in safe hands!
Warranty
Your peace of mind is of utmost importance to us hence, we at Royal Moore Subaru are happy to offer you the basic warranty covers for 3 years or 36,000 miles, whichever comes first. This is in addition to the signature Subaru reliability and 24-hour roadside assistance at no additional cost.
All these power-packed features truly make the 2019 Subaru Ascent the perfect family SUV for all reasons and seasons!
Royal Moore Subaru
is proud of Subaru's world-class engineering and aims to make the car buying process for you as streamlined as possible.
We also run a
Guaranteed Trade-In Program
(GTP), which is valid for Subaru owners only. This program guarantees the trade-in amount you will receive for your existing Subaru vehicle when you buy a new model from us.
So, what are you waiting for? Head over to get your hands on the brand new 2019 Subaru Ascent and let it find its way from our lot to your driveway!