At first glance, the 2019 Subaru Forester looks like it's beautifully designed predecessors. Upon further investigation, however, it is quickly apparent that the the
2019 Subaru Forester SUV
is completely redesigned. Built on the company's latest vehicle architecture, the new Forester is claimed to be more efficient, more dynamic, and safer than ever before.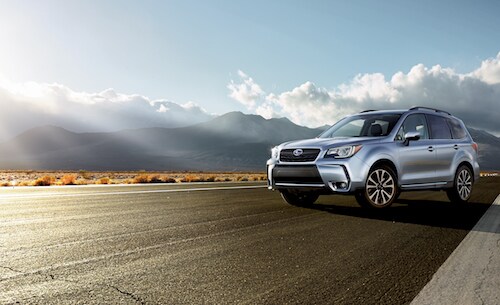 And, while exterior features like a bold grille, active shutters, which improve aerodynamics and, in turn, fuel economy, along with LED headlights, silver or high-gloss black exterior trim, and prominent underguards front, side and rear, make the Subaru a beautiful car, it is the safety features that really make this car a true stand out from the competition.
Safety Overview
Thanks to its new vehicle platform and architecture, crash protection is expected to be much better with the new Forester when compared to the outgoing Forester, which was already among the safest vehicles in its class.
Furthermore, for 2019 Subaru makes its EyeSight suite of driver assistance and collision avoidance systems standard equipment. EyeSight includes adaptive cruise control, forward collision warning with automatic emergency braking, lane departure warning, and lane keeping assist. For 2019, it adds pre-collision throttle management and for the adaptive cruise system a lead vehicle start alert feature.
New for 2019, a DriverFocus system is exclusive to the top-of-the-line Touring model. It is basically a driver monitoring system that can warn you when you're too tired or distracted to drive. It uses facial recognition software, and can also remember the preferences of up to five different drivers in terms of seating position, temperature settings, infotainment system settings, and more.
Additionally, the new Forester offers reverse automatic braking, blind spot detection, lane change assist, rear cross-traffic alert, automatic high-beam headlights, and steering responsive headlights that can help a driver to see around corners after dark.
A Closer Look at EyeSight
First introduced in 2008, EyeSight is an original Subaru system that supports safe driving by using stereo cameras to monitor the road ahead and applying sophisticated control when necessary. The stereo cameras enable the system to constantly scan the area in front of the vehicle and judge distance similarly to human eyes. Advanced recognition capabilities enable EyeSight to distinguish vehicles, pedestrians, and lane markings, monitor wide viewing angles, visually confirm distances, and recognize brake lights through color imaging.
Based on driving conditions and information obtained by its 'eyes', the software constituting the system's 'brain' judges the necessary degree of control and can act as 'hands and feet' to apply appropriate vehicle control in accordance with circumstances. The potential of the stereo cameras is further enhanced by a range of sensors, achieving even higher levels of driver assistance in various settings.
In previous versions of EyeSight, lane tracing control only operated at speeds of 60 km/h (37 mph) or more, but the new Touring Assist function extends operation to any speed range.
In the 2019 Forester SUV, EyeSight makes for an incredibly safe driving experience warranting an even closer look at it's most amazing features:
Pre-collision Braking Control - Alerts the driver if the system discerns any collision risk. If the driver takes no avoidance control, the system applies brakes to automatically slow or stop the vehicle. Averts collision or reduces damage when speed differential with preceding vehicle is around 50 km/h (31 mph) or less.
Adaptive Cruise Control - Follows preceding vehicle at a set distance in any speed range up to 120 km/h (75 mph) on expressways and other vehicle-only roads. From high-speed cruising to stop-and-go traffic jams, the system reduces irksome acceleration and braking for safe, comfortable driving over long distances.
Reverse Automatic Braking - When driving in reverse, sonar sensors on the rear of the vehicle detect obstacles. Escalating audible and visible alerts are activated if there is any possibility of collision. If the driver fails to respond, brakes are applied automatically to avert collision or reduce damage.
Pre-collision Throttle Management - Controls sudden vehicle take-off from parking spaces due to driver error in gear or pedal selection. Works in forward and reverse gears.
Alerts - The system alerts the driver with audible and visible warnings if it detects vehicle weaving (when driving at speeds of around 60 km/h or more) or lane departure (at around 40 km/h or more). Voice prompts and a visual display alerts the driver if the car remains stationary when the vehicle in front has moved off.
Lane Departure Prevention Assist - Stereo cameras recognize road markings on both sides of the lane the vehicle is in. When driving on expressways at around 60 km/h or more, steering assistance is activated if the vehicle appears likely to move outside its lane, controlling lane departure to support safe driving.
Focusing in on DriverFocus
The 2019 Subaru Forester SUV is equipped with DriverFocus, a feature for the vehicle that uses facial recognition to detect driver fatigue and distraction. If distracted, If it sees you looking away from the road for more than three seconds, it'll beep—and if it beeps several times with no response, the car will slow to a stop.
In addition to being a stellar new safety feature, DriverFocus is also quite convenient. If one driver prefers the heat on with classical music playing softly, DriverFocus will set those things in place as soon as the driver turns on the car.
If another driver prefers air conditioning and loud pop music, the car will recognize that driver and tailor the radio and air accordingly. Additionally, it gives each driver a personal greeting, which is a nice detail. The feature, which the automaker claims is the first in the segment, can recognize up to five drivers and can remember their pre-set preferences for seat position, climate, and infotainment.
While some luxury automakers, like Lexus and Cadillac, have released facial recognition systems, DriverFocus is the only system available at a more affordable range.
Aesthetics are great, good mileage is fantastic, a comfortable interior is nice to have, but safety is something that is absolutely necessary. Subaru has taken this essential aspect to another level with EyeSight and DriverFocus.
While the technology to prevent any possible accident simply does not exist, Subaru is definitely a few steps closer to achieving that goal with the 2019
Subaru Forester
SUV.