It's time for you to consider a new vehicle, and you're wondering which way to go. If you're looking for a car that's sturdy, reliable and drives like a dream, the 2018 Subaru Impreza could be the perfect choice for you. It's also great on gas miles and the hatchback has an unbelievable amount of storage space.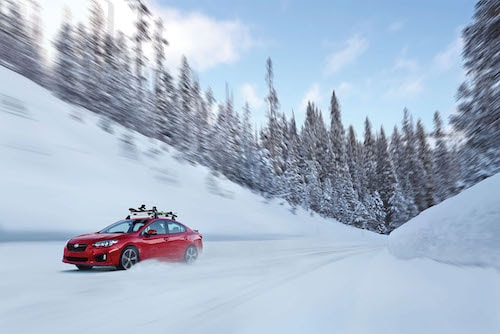 Let's take a look at some more reasons why you should consider the 2018 Subaru Impreza when looking into Subaru cars for sale.
First, it's fuel efficient, which is especially helpful. The more you can get out of your gas tank, the more you save. Of course that varies a bit if you're doing more city driving, but if you're hitting the open road, you'll get great bang for your buck with gas on this Subaru.
In fact, with city driving, you can get 22-28 miles per gallon, while with highway driving, it ranges from 30-38 miles per gallon. That means in a 15.8 gallon tank, if you get 38 miles per gallon, you can travel an astonishing 600 miles between fill-ups. In layman's terms, that means you can drive straight from New York City to Columbia, South Carolina.
This car is also standard all-wheel drive, which is a much more recent innovation compared to it's four-wheel drive counterpart. All-wheel drive in the 2018 Subaru Impreza creates uniform stability and delivers an optimal distribution of power for maximum traction.
Next, this car has spacious seats, which is always a plus. If you have several people in the car, you don't want to be uncomfortable. This ensures that you and your passengers will have a nice comfortable drive, no matter what the destination may be.
Studies have also shown that the Subaru Impreza is a safe car. In fact, it earned 5 stars (out of 5 stars) in side and roll-over tests. While it's scary to imagine being in a car crash, but it's important to know if your car tests well should you ensure an accident on the road.
One of the most popular features of the Impreza is the rearview camera, although it's always encouraged to turn around to check your blind spot. The camera is only there to assist, not be your main guide to what's behind your vehicle. According to an article on
U.S. News and World Report
, "available active safety features include blind spot monitoring, rear cross traffic alert, reverse automatic braking, and Subaru's EyeSight safety system, which includes lane keep assist, lane departure warning, forward collision warning, automatic emergency braking, and adaptive cruise control." That's important when you're looking at cars for sale.
Available in both sedan and hatchback, the Subaru Impreza can seat five people comfortably. Of course, if you don't mind a little bit of tightness, you can probably squeeze in number six, but we wouldn't advise that for long trips. Also, if you're wondering about car seats for the little ones, the Impreza has two full sets of LATCH car seat connectors, so the little ones can travel with ease as well, just like you will in the front.
It's all of these safety features and more that landed it among the few vehicles to earn the
Top Safety Pick +
designation this year by the Insurance Institute of Highway Safety (IIHS).
If a big concern for you is trunk space, you're going to want to go with the hatchback. While the sedan offers your typical 12 feet of space in the trunk, which may be enough for some people, the hatchback offers nearly 21 cubic feet behind the rear seats. That's quite the difference for frequent travelers who are often accompanied by luggage and more.
For the latest in technology, look no further than the Subaru Impreza. Standard features include the Starlink infotainment system with a 6.5-inch screen. Features such as Bluetooth audio streaming, Android auto and Apple carplay come in the system as well. You can also get that system upgraded to an 8-inch system, but of course that will cost you a little more. There's also other features that your local cars salesperson can introduce you to.
What's new in the 2018 edition? The 2018 Subaru Impreza gets automatic headlight activation, which turns on the headlights when the windshield wipers are activated. When you're looking at cars for sale, look into the advancements they provide in technology. The 2018 Subaru Impreza stands up against the rest.
If you're worried about price, we're here to alleviate your concerns. The Subaru Impreza is an affordable $18,495. Add $500 if you decide to go with the hatchback. That's about on par with cars of it's class. Be forewarned though; cars in its class that cost less are not nearly as equipped as the Subaru Impreza.
There's also the warranty. Like many similar vehicles, Subaru offers a three-year, 36,000-mile limited warranty and a five-year, 60,000-mile powertrain warranty.
So, you need to decide what's important for you in a car. If you're looking for a reliable car that's done well in crash tests, gets good gas miles, and is affordable, than the Subaru Impreza could be your choice. Head on down to your local car lot to learn more and
give it a test drive
. Trust us, you'll see what all of the hype is all about.
If you're not sold yet, the proof is in the results. The Impreza is built for the long road ahead, and that's no lie. In fact, it's the longest-lasting vehicle in its class. Just look at the statistics. Of vehicles sold in the last 10 years, 96 percent of those vehicles are still on the road serving their owners today. Also, according to 2017 statistics, the Impreza retains value better than any other car in its class.
Give it a whirl, you won't regret it.