Families spend a lot of time on the road these days. From taking long road trips during summer vacations to driving around town running errands, the family vehicle has become an extension of the family home.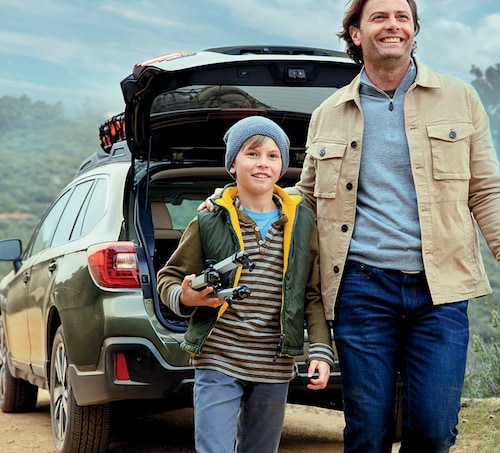 Two of the best family vehicles on the market today are the Subaru Outback and Honda CR-V.
The Honda CR-V has always been a popular choice. This crossover is a great selection for smaller families who are looking for a two-row, five-passenger vehicle.
The Subaru Outback, on the other hand, has an orientation that stands out amongst its crossover SUV competitors. Subaru is known for its reliability. Ask anyone who owns a Subaru and they will tell you its because it's designed for adventures; the Subaru name is synonymous with an adventurous attitude on life.
While it has great performance and safety technologies, it also combines the cargo space of a larger SUV. Add in the comfortable ride quality and you'll find that it makes a perfect replacement for other SUV options.
So which one will it be?
Both vehicles have qualities that make it a difficult decision. But when you're shopping for the best family vehicle, think about what SUV will cover all of your family needs.
Browse through dealership
websites
to see what Subaru options will fit the vision you have for your family. Dealerships such as us at Subaru Beaverton also encourage test-driving the vehicle yourself. Bring the spouse and/or kids if they're around so that you can all make the conscious decision for your next vehicle together.
Here are some tools to keep in mind when deciding, from the safety of the vehicle to the infotainment available to keep your drives easy and fun.
Safety
Most Honda CR-V models come with the Honda Sensing, a safety package that includes technologies such as Lane Departure Warning, Lane Keeping Assist System, Adaptive Cruise Control and more. These systems are meant to help prevent accidents, giving you a stress-free drive, while putting the safety of your family first.
Subaru is a brand that has always been recognized to go hand-in-hand with safety. The Subaru Outback comes with similar safety technologies as the Honda CR-V, but also includes the unique Subaru Eyesight Driver Assist Technology—an extra set of eyes to add confidence to every road trip.
Comfort & Cargo Space
Both vehicles have plenty of cargo space for grocery store trips or a day at the soccer field. When the seats are folded down, the Honda CR-V has 75.8 cubic feet and the Subaru Outback has 73.3 cubic feet.
They both have ample headspace, but the Subaru Outback does have more legroom. As your kids grow, that can be a big benefit. Grown ups too will quickly appreciate having a little extra space. The seats in the Outback also recline for extra comfort during long trips.
Both interiors have plenty of room for five people and offer just enough space for your stuff. Whether packing away the stroller or bringing your gear for a day in the sun, you'll love the ease and accessibility both offer.
If you need that extra space, The Subaru Outback can also tow up to 2,700 pounds, perfect for a small trailer. The CR-V can tow up to 1,500 pounds, which is typical for a compact SUV.
Fuel Efficiency
The Subaru Outback gets about 25 mpg for families in the city and 32 mpg on the highway, while the Honda CR-V clocks in at 28 mpg in the city and 34 on the highway. However, the Subaru Outback does have a larger fuel tank, which results in fewer trips to the gas station.
Performance
Let's face it; what most of us really want is acceleration and performance and handling. We may want and need an SUV for the family, but a part of us wants to "feel" the road too.
The Subaru Outback has more than 250 horsepower on a 6-cylinder engine. The Outback comes standard with an all-wheel drive that also increases traction when driving conditions worsen. With its standard all-wheel drive features to help with hill descent control, any ride can be easier, giving you stress-free driving.
Even with this much performance, you still get plenty of power and fuel efficiency. The Outback is a perfect ride for the outdoor adventurer, while still delivering quality performance on smooth pavement.
The Honda CR-V engine tops at a 1.5 liter for 190 horsepower. It is known to have hesitation when the turbo builds during acceleration. This makes the Subaru Outback a more powerful ride altogether.
While riding, you will notice a quieter atmosphere in the Subaru Outback. This is perfect for families who plan on going on trips where they can sightsee and explore the landscape without hearing the outside noise along the way.
Infotainment
The Subaru Outback takes the prize for a stronger Infotainment system. It has a larger 6.2 inch display and can be upgraded to a 7 inch screen. It doesn't offer Apple Carplay or Android Auto, but it does integrate with smartphones. The typical swiping or pinching gestures of the smartphone to operate the infotainment system is used for this system as well.
The Honda CR-V comes with a slightly smaller five inch screen on the standard model, but it can be upgraded to the seven inch.
Between the two, the Subaru Outback wins for the best family vehicle. It delivers what families need in a vehicle, from an accessible infotainment system to reliable safety technologies.
Make sure to check out the different models on our website or just head over to your Subaru Beaverton dealership to take a
test drive today
.
There are different financing options that can fit your needs so you can drive off the lot with a new or used vehicle the same day you go in and q dealership like Subaru Beaverton will also have service centers available if you find yourself in need of a repair.