Subaru in all its forms has been churning out vehicles that stand the test of time. In fact, most are still on the road ten years later. The Crosstrek is no exception and it just keeps getting better each year.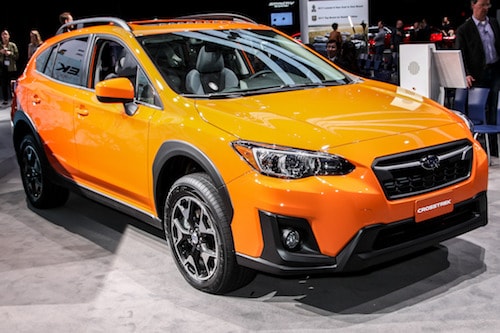 Not only is the 2018 Subaru Crosstrek a Top Safety Pick, it gets better mileage than most other vehicles in its class. In fact, this standard all-wheel drive model gets up to
33 mpg on the highway
. This beats the 2018 versions of the Jeep Compass Sport, Nissan Rogue Sport SV, and Toyota C-HR XLE. Come on over to your Subaru dealership in Beaverton to see how else the Crosstrek edges its competition.
Yes, efficiency is key as it ensures you select a vehicle that will have a lower impact on the environment, while saving you money each time you stop by the gas station to fill up. But, what's even more important is safety.
Subaru knows safety is a must and loads its vehicles will the best tools technology has to offer; this includes the Crosstrek. So let's delve into exactly how the 2018 Crosstrek earned such safety accolades.
The
Insurance Institute for Highway Safety
(IIHS) has been handing out awards for the safest vehicle models since 2006 in order to assist drivers widdle down the many options available and without fail, Subaru is always a top contender despite the growing rigorous standards. This year, only 62 vehicles earned the Top Safety Pick designation, and the Crosstrek was among them.
Unfortunately, not all manufacturers were taking into account front passenger-side protection, so this year, IIHS added this test into their analysis and the Crosstrek was one of a few that prevailed.
Here are the other ways in which the Crosstrek was built to protect you and your passengers:
Subaru Eyesight
Added to all Crosstrek models constructed after October 2017, is Eyesight Driver Assist Technology. This system uses duel color cameras inconspicuously placed near the rearview mirror to scan the road for potential danger and is customizable to fit your driving needs.
If you prefer to keep a specific distance between you and the car in front of you, choose the distance and Eyesight will automatically adjust your speed to meet those requirements. But that's not all. It can also recognize if you start to stray out of your lane and will alert you. And, its pre-collision braking alerts you to a potential impact, while applying full brake force in true emergency situations. That is because it can detect objects in front of you that you are likely to hit!
It used to be true that a small fender bender was only a matter of time. But, with this new technology, it is easier than ever to stay safe on the road.
Subaru Starlink Safety and Security
Even with Eyesight, accidents do happen beyond your control, so the best thing you can do is to be as prepared as possible. Subaru helps you with this as they provide you with a one-year subscription for Starlink.
With this added feature, if your airbags were to deploy, an Automatic Collision Notification would be sent to first responders to assist. It also comes with Enhanced Roadside Assistance, Stolen Vehicle Recovery, and Remote Service. So no matter what unexpected situation you find yourself in—flat tire or missing automobile—you are not alone.
Top Safety Headlights
If you opt for the 2.0i Limited version of the Crosstrek, you will be equipped with some of technologies finest headlights available. While this isn't something you knew you needed, once you hear what this can do, you might just see things differently.
No longer will you be making blind turns on the pitch-black mountain and farmland roads. Today, the LED Steering Responsive Headlights actually track in the direction of a turn for enhanced visibility.
And, no longer will you have to manually switch back and forth between your high and low beams when a vehicle is approaching. High Beam Assist works in conjunction with Eyesight to take this step for you, ensuring the safest journey for you and the other person on the road.
Built to Crash
No one wants to end up in a car crash, but sometimes things happen, so be ready for them. Thankfully, when you purchase a 2018 Crosstrek from your Subaru dealership in Beaverton, you won't even have to think about what could happen as your vehicle is as safe as they come.
In fact, the Crosstrek was built to crash. It's body was built to absorb the energy of a collision—a 40% improvement, says Subaru. Which means you'll be that much safer and have ease of mind when you take your next drive.
Blind-Spot Detection
It's happened to everyone. You're driving along and need to switch lanes. You check your blind spot and no one is there, but when you go to merge moments later, a horn is blaring and another car goes zooming by as you quickly correct and remain in your lane. Your heart races as you know that could have been worse.
As humans, we err and Subaru knows this. That's why they've added Blind-Spot Detection and Rear Cross-Traffic Alert to some of its Crosstrek models. When available, radar sensors are added to your side mirrors and will alert you if someone is in your blind-spot when you attempt to change lanes and if someone is approaching as you go to backup.
Reverse Automatic Braking
It's not uncommon to see the newest vehicles with cameras that make it easier and safer than ever to backup and parallel park. However, how many vehicles do you know—if any—that will brake automatically? Just like Eyesight, Reverse Automatic Braking can anticipate if you will hit something and will brake on your behalf, keeping you that much safer during each ride.
Subaru is known for keeping its passengers safe and this holds true for its 2018 Crosstrek. But not only is the model getting noticed for safety, it's also lauded for its ability to maintain value, it's comfortable ride, and the fact that it's truly built to last.