When you're shopping for a new car, the last thing you want to do is settle. At Royal Moore Hillsboro we share your commitment to nothing but the best. That's why we're proud to have three of Consumer Report's
best all-wheel-drive options
.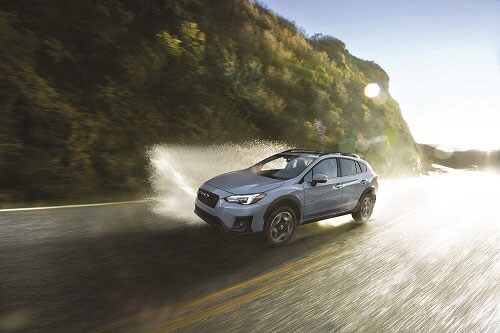 We believe that everyone in our community deserves the perfect car for them. So whether you're looking to replace your well-worn truck or are looking to buy a new car for the very first time,
come on down
! You'll find what you need at Royal Moore Hillsboro.
Subaru Outback
The
Subaru Outback
has always been a leader in its category and it's still true in 2018. The new Outback continues to deliver on what it's known for, as well as offering plenty of new options and features for the modern driver. We've always been advocates of the Outback at Royal Moore Hillsboro, and we're happy to tell you why.
While the exterior is sleeker than ever, what really shines is the newly upgraded interior. Handsome stitching adds to the charm of the model, proving that you can still have a sense of style while trekking out through the wilderness.
There's something else you might notice about the new Outback -- or rather, something you might not notice. The new design boasts a quieter and more comfortable cabin than ever before, giving you refuge from all the sound and fury that mother nature can provide. Here at Royal Moore Hillsboro, we know that even the most intrepid explorer needs a safe refuge from time to time.
Another thing that might catch your eye is the brand new center console, showcasing some of the other upgrades to the Outback. There, you'll find an innovative touchscreen display that lets you do everything from plot your route home to play your favorite song on repeat. With STARLINK multimedia standard in every model, the Outback lets you wirelessly pair your smartphone and access all of your content hands-free. Stay plugged into what you love without having to worry about taking your attention off the road.
STARLINK doesn't just let you stay up to date with all your content, it also keeps you and your passengers safe. With the SOS emergency button, you'll be able to get in touch with help no matter where you are or what's happening. In the event of an accident, a Customer Care Advisor will contact you and help reach a first responder. At Royal Moore Hillsboro, we care about your safety. Let us help you find a car that will give you some peace of mind.
Subaru Forester
If you're looking for something to take you both around town and to the mountain trail, look no farther than the
Subaru Forester
. Affordably priced with great gas mileage and all modern features, the Forester combines everything that you could want from an SUV. We know how important adventure is to our fellow Oregonians at Royal Moore Hillsboro, and the Forester is the vehicle to take you wherever the road leads and even when it ends.
You'll have plenty of room for you and your passengers with a beautiful, spacious interior featuring upgraded materials. Let the beauty of the outdoors in with the power panoramic moonroof, giving you sweeping views of the sky above.
And, in the back, you'll find more than enough room for all the gear you need on your next expedition. There's even more on top of that, literally! The raised roof rails help secure any oversized cargo that you don't want in the cabin. All of that sits on top of the updated Subaru Boxer engine, so there's nothing mother nature can throw at you that you can't handle.
At Royal Moore Hillsboro, we know how much of a commitment choosing a vehicle can be. We can promise you that when you decide to drive a Forester, it will be with you for the long haul. Did you know that 97% of Subarus sold within the last decade are still being driven today? That's because they're built to go the distance. In fact, that long-lasting quality is part of the reason that the Forester retains its value better than any other vehicle in its class.
This years model is no different, built with a high-strength steel frame for lasting quality. That same frame provides superior crash safety, as well as a quieter cabin. When a vehicle is built with as much care as the Forester, you can count on it for years to come.
Subaru Crosstrek
You might not always be taking to the wilderness every weekend, but you still deserve an all-wheel-drive vehicle to get you where you need to go. If you're looking for something to take you to the office Monday through Friday, but still like the idea of hitting the road come the weekend, we recommend checking out the
Subaru Crosstrek
. Even if you're a stalwart weekday warrior, we here at Royal Moore Hillsboro can help get you through your commute and beyond.
The Crosstrek compact build lends itself to easy parking and maneuvering on crowded streets and with an improved platform, you'll enjoy smoother rides than ever before.
The Crosstrek may be comfortable in the urban jungle, but it still has the same spirit of adventure that a Subaru is known for. It features 8.7 inches of ground-clearing capability, making it ready to handle rough roads. With a spacious hatchback and integrated roof rails, you'll be able to haul everything you need from home, to the office, and wherever else life might take you.
When you come to Royal Moore Hillsboro, expect to find the latest and greatest vehicles out there. Integrated technology is becoming more common in the average vehicle, and the Crosstrek is no exception.
In addition to STARLINK, the Crosstrek offers EyeSight driver assist technology. Think of EyeSight as an extra set of eyes on the road, watching out for any potential hazards. The system checks the traffic around you, as well as the vehicle itself, for things like sudden stops and swaying cars. If need be, EyeSight can even hit the breaks for you, reducing the chance of a collision. We want you to be able to rely on any vehicle you get from Royal Moore Hillsboro, and the Crosstrek's integrated technology helps us ensure that.
If you're looking for an all-wheel-drive vehicle, you can't go wrong with any of the Subarus mentioned here. Come out for a test drive today!