Looking to buy a new car? Allow us to introduce you to the new Subaru. We're confident that once you learn everything it has to offer, you'll want to drive it off our lot and never look back.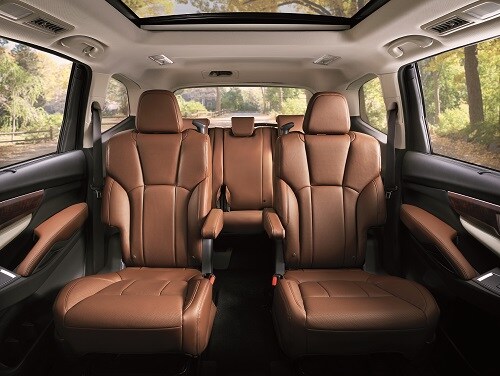 At
Royal Moore Subaru
, we offer a wide selection of vehicles to meet your everyday needs, as well as fulfill your dream car wish list. Our 2019 Subaru Ascent is perfectly outfitted to do just that. Why, you ask? Well, for starters, it's an award-winning vehicle that puts it in a class all its own. In fact, the Subaru Ascent is a
three-row winner
. To get you ready for a test drive of our newest model, allow us to show you around.
Subaru makes a number of high-quality vehicles, so how do you know if the Subaru Ascent is right for you? There are several reasons the 2019 Subaru Ascent comes out ahead of the competition. Let's take a look at just a few of the highlights.
Family-Friendliness
If you're looking for a car that the whole family will enjoy, you've found your new Subaru. No more taking multiple cars when you head out on the road. The 2019 Ascent has room for up to seven passengers. With three-row seating, there's room for the whole family and then some. In fact, the Subaru Ascent features over 153 cubic feet of passenger space, making it the largest Subaru to date.
In addition to feeling roomy and spacious, the Ascent also features adjustable seating. Need an adult to sit in the back to watch the kids and make sure they're behaving? The adjustable seating allows you to slide the second row of seating forward, giving you more flexible seating options. Planning a road trip and want to make room for luggage? Simply put the rear seats down. You'll have enough room for four adults, as well as a good amount of luggage.
Comfort and Convenience
In addition to its spacious interior, the Subaru Ascent provides an array of features that enhance both its quality and comfort. First, the Ascent offers impressive ride quality and incredibly comfortable seating. Not only will you be at ease in the driver's seat, but your passengers will also be able to sit back and relax in comfort with the Ascent's second-row air vents.
The Ascent also offers other features that up the crossover's convenience factor. The Eyesight safety tech, for instance, includes a lane departure and sway warning, providing enhanced safety on the roadway. With the Eyesight driver assist system, you'll have increased confidence and awareness every time you're behind the wheel.
Other benefits include Subaru Starlink Multimedia, which includes a touchscreen display for Android auto integration and Apple CarPlay. The Subaru Ascent also has adaptive cruise control, making for a smoother and safer ride each time you hit the road.
Performance
Subaru makes the best-selling all-wheel-drive cars in the nation and the Ascent is no exception. But there's so much more to this vehicle than simply all-wheel-drive. While the Subaru Ascent is incredibly family-friendly, don't underestimate its power. The Ascent provides quality speed and performance. The 2.4-liter 4-cylinder Boxer direct fuel injection turbocharged engine packs plenty of power. In fact, the Ascent offers smooth acceleration that's
comparable or even better than
its competitors that come equipped with 3.5-liter V6 engines.
Speaking of acceleration, with the Subaru Ascent, it's full speed ahead. When put to the test, the Subaru Ascent Premium model was able to hit 60 miles per hour in just 6.9 seconds. On the opposite end of the spectrum, the Premium could halt its 60-mile per hour speed in a distance of just 119 feet. The Subaru Ascent Touring, the Ascent's top-of-the-line model, slightly bested that. The Touring can come to a complete stop from a speed of 60 miles per hour in just 118 feet; truly impressive.
Value
You simply can't beat the value of the new Subaru Ascent. With a base price just under $33,000, the Ascent offers incredibly competitive pricing. The luxury Touring model runs about $45,000, making it another attractive option. But that's not all. The Subaru Ascent also offers excellent fuel economy. You'll get a combined 23 miles per gallon on the city and highway.
Another great feature of your new Subaru is its longevity. Did you know that 97% of all Subaru vehicles purchased in the last ten years are still on the road today? That means you can be confident in your purchase and its ability to withstand the test of time. As noted in the
Kelley Blue Book
, "When it comes to 5-Year Cost to Own and resale value, Subaru has a very strong reputation, and we anticipate that trend will continue with the Ascent." Translation? You'll be able to enjoy your new Subaru long after it's been paid in full.
Ready to purchase your new Subaru Ascent? Stop by Royal Moore Subaru so we can help you decide which model is best for you. There are four options to choose from: the base Ascent, all the way to the top-of-the-line Touring. In addition to the different models, you can select from a variety of color options and accessories to customize your new Subaru especially for you. We'll help you determine which options best suit your needs.
Offering value, performance, and comfort, you really can't be steered wrong when you opt for the 2019 Subaru Ascent. We'll be happy to walk you around the showroom floor and let you take your new Subaru for a test drive so you can see for yourself. In fact, bring the whole family along for the ride! But, you might be tempted to drive it off our lot and never look back, so just remember to make the return trip!