The Subaru is a vehicle manufacturer loved by many, but it seems that Oregonians are particularly obsessed. Head anywhere around this great state and you're certain to see countless models on the road. But what drives them to this brand?
Subaru is in the business of making cars that can compete with all of the major car-makers without sacrificing any of its originality and that is likely the main reason it is such a popular vehicle choice in Oregon.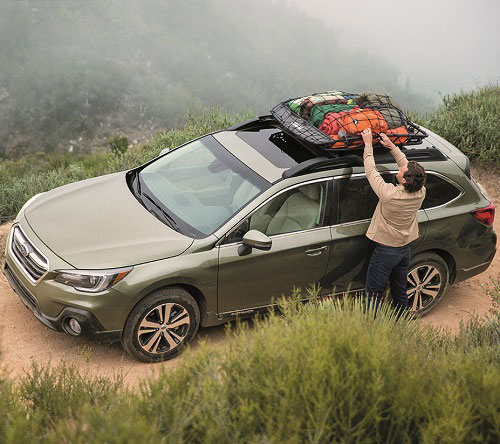 Safety is something all car buyers consider when purchasing their next vehicle and few brands can beat the safety features of a Subaru which, undoubtedly, pushes it further up the popularity ladder.
Unique and safe, the Subaru also handles incredibly well, boasts outstanding engineering under the hood, and it has a look both inside and out that people gravitate toward.
The following is a closer look at all of those things that make the
local Subaru dealer
a first, and often last stop on a car buyer's search for their next vehicle.
Safety
Subaru was named the only automaker with IIHS Top Safety Picks for All Models - five years in a row (2010 - 2015). People think of safety as the ability to survive an accident. But, the best way to survive an accident is to avoid having one in the first place.
Each Subaru is equipped with a broad range of safety features and systems to protect the driver and any passengers. Safety is often the number one reason drivers choose to purchase a Subaru.
A visit to the local Subaru dealer and a quick test drive is often all it takes to convince would-be-buyers that a Subaru is going to keep them safe. Here are a handful of ways the Subaru is one of the safest vehicles on the road:
Ring-Shaped Reinforced Frame: There are no weak spots in a ring. Simply testing this theory by putting pressure on a ring confirms this: no matter how much pressure is placed on the ring, it will not transfer that pressure to the actual finger wearing it. Subaru uses ring-shaped construction to absorb and dissipate the forces of an impact.
Safety Brake Pedal System: During a severe frontal collision, the brake pedal and components present a clear danger to the driver's feet and legs. The safety brake pedal system actually moves away from the driver to prevent these injuries on Subaru vehicles.
Subaru VDC (Vehicle Dynamics Control, also known as electronic stability control): Standard on all 2010 and newer models, VDC helps keep the vehicle on its intended path by measuring variables such as steering input, braking, and vehicle angle. Sensing any slide that causes the vehicle to deviate from the intended course, VDC applies individual brakes and/or reduces engine power to help counteract the slide and help keep the driver safely in control.
Handling
While all-wheel drive (AWD) is not a unique concept, symmetrical all-wheel drive is. Unlike most AWD systems that are adapted from two-wheel drive, Subaru's symmetrical AWD starts out as all-wheel drive.
Power for the symmetrical AWD system comes directly from Subaru's Boxer engine, which gives adequate power to each wheel, continuously, to prevent slippage in any road condition.
Competitors have similarly named AWD systems like Intuitive AWD (Nissan), Intelligent 4WD (Ford), On-Demand 4WD (Toyota) or Real Time 4WD (Honda). However, only Subaru's symmetrical AWD system is always on to provide the driver with the best control.
Engineering
The Subaru Boxer engine (the name comes from the way the pistons move; in most cars, pistons move up and down; in the boxer engine, the pistons move horizontally, like a boxer punching) sits at the heart of every Subaru vehicle. The intelligent engineering behind Subaru's Boxer engine provides the get-up and go one can expect from a Subaru, and provides plenty of power for Subaru's aforementioned symmetrical AWD system.
The flat laying engine design provides the perfect combination of balance, power, and efficiency. Besides the occupants, the most important piece of a vehicle is under the hood. The Subaru Boxer engine delivers, even under the most adverse conditions and still maintains the highest fuel efficiency among dedicated AWD vehicles.
A quick comparison between the Subaru Boxer engine and other engines in the market shows why Subaru engineering makes their vehicles so popular:
Smooth ride: The Subaru Boxer engines' unique design provides less vibration than its competitors. Each horizontally opposed piston cancels the vibration of the opposite piston. Besides Subaru, only Porsche uses the unique Boxer engine style to maximize power and stability.
Long lasting dependability: The pistons in the Subaru Boxer engine are always lubricated. Therefore, the lubed pistons on the Boxer engine wear slower than dry starting inline and V-type engines because there is less friction when initially starting the vehicle. Similar to roll-on deodorant where the ball can only get wet by rolling it before it works, non-Boxer engines use a dry start.
Design
Handsome and fresh, the Subaru Outback's nondescript design is marked by crossover-like styling details splashed across its station wagon-like sheet metal, including chunky roof racks, unpainted plastic body cladding, and a tall stance. Additionally, there is a bit of authentic crossover DNA baked into the Outback: its 8.7-inch ground clearance not only betters many of its peers, it bests the base Jeep Wrangler Sport by 0.4 inch, which means that drivers have enough clearance to venture pretty far off-road.
While the Subaru has a familiar and almost iconic exterior, it is the interior that truly makes the Subaru a vehicle loved by Oregon. Functional and versatile, the Outback's interior is spacious and built to a high standard, and is the number one reason anyone in the market for a vehicle should stop by their local Subaru dealer and take a peek.
All Outbacks offer a touchscreen infotainment system and steering-wheel-mounted audio and cruise controls, while Limited and Touring trims feature additional niceties such as leather seats, power-adjustable front-passenger seats, and climate-control vents for rear-seat riders.
Compared with crossover-flavored station wagons, such as the Audi A4 Allroad Quattro, the Volkswagen Golf Alltrack, and the Volvo V60 Cross Country, the Subaru Outback sets the bar in interior space.
With an emphasis on safety, the staid styling benefits driver vision all around. Thanks to large windows and thin roof pillars, maneuvering the Outback is a decidedly easy task. A blind-spot monitoring system is standard on Limited and Touring trims and available on Premium models, while a rearview camera is standard on every Outback.
With safety features galore, excellent handling, smart engineering, and an even smarter look, the Subaru is quite deserving of being among the most popular vehicles in Oregon.