The 2021 Subaru Love Promise Customer Commitment Award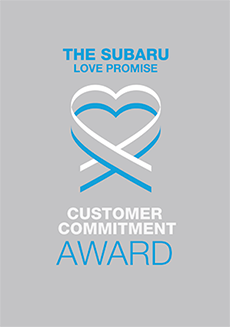 We've been nationally recognized for our dedication to our customers and the Subaru Love Promise.
We're honored to receive the 2021 Subaru Love Promise Customer Commitment Award. This award nationally recognizes Subaru retailers who demonstrate excellence in all areas of customer-focused performance. It highlights exceptional customer service that builds lifelong relationships with Subaru owners.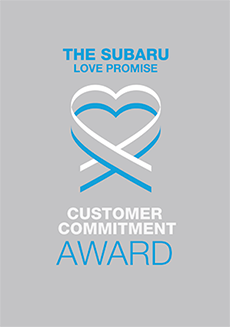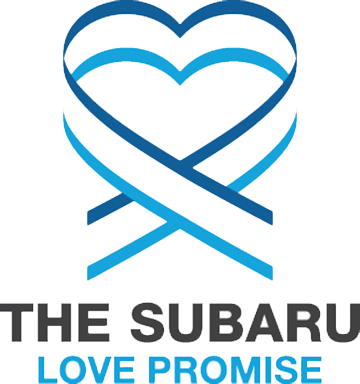 What is the Subaru Love Promise?
Subaru and our retailers believe in making the world a better place and the Subaru Love Promise is our vision of respecting all people. This is our commitment to show love and respect to our customers and to work to make a positive impact in the world.
How is Royal Moore Subaru dedicated locally to the Love Promise?
Our Love Promise can be seen in various partnerships with local charities and non-profits. We're grateful for the opportunity, not only to be a part of our community, but to serve it as well.
Love Promise Stories from Royal Moore Subaru
Subaru and Royal Moore Subaru believe in making a positive impact on the communities in which we live and work. We uphold that belief through our Love Promise Community Commitment. Every month, we select inspiring stories from customers and partners from around our area who strive to support our collective commitment and feature them here
Marino The Wonder Dog - Lindsey Q
Marino, a five year old Chihuahua mix came to Oregon Dog Rescue located in Tualatin, Oregon from an at-risk shelter in Porterville, California. Our transport partner asked our no-kill, non-profit organization to help this little dog have a second chance at life and we are happy to report that with Subaru's help, we were able to provide just that! Marino was found as a stray in California and we can only speculate that he must have been hit by a vehicle. This little 13 pound guy had the courage and strength to hold on until he could reach a rescue who could provide the medical care he was so badly in need of. Upon Marino's arrival it was evident that his leg was badly broken in multiple places and he would need an amputation. He had severe bruising and as you can only imagine, was quite sore. He was immediately given the care he was in need of to live his best life. He then went to foster with one of the rescue's fantastic volunteers to fully recover before going up for adoption. We are happy to report that Marino has found a lovely home here in the PNW! This kind of happy tale is made possible from extraordinary donors like Subaru. Thank you from our team to yours for making a positive impact in the community.
---
St. Jude Autumn Harvest Thanks You - Curtis C
First of all, thank you again for your incredible support of St. Jude last month at the 6th annual St. Jude Autumn Harvest! You all came into the event as true champions for the lifesaving mission of St. Jude and stood out among our supporters as a group that is clearly dedicated to this lifesaving work and being an agent for good here in our community! By lending your support to help inspire others in the room to give, you make such an amplified impact. Last year, our Give to Live raised $32,000 for the kids of St. Jude. With your support we raised $110,000 in our Give to Live this year. This growth would not have been possible without you so again, thank you for your incredible partnership.
---
Royal Moore Subaru Supports Hope, Help & Change - Kristy R
Thank you, Royal Moore Subaru for choosing Community Action as your Hometown Charity recipient for 2018 Subaru Share the Love Event. Because of the hard work of your sales team and the generosity of your customers, Community Action has received a donation totaling over $21,700! The funds raised during the Share the Love campaign will be invested in expanding the impact of our programs and services in an abundance of ways. Your support will help our Energy Conservation team respond more quickly to emergency heat needs, ensuring local families have homes that are warm, safe and secure. You have provided funding for our specialized staff to assist food stamp recipients to connect with employment opportunities and job coaching resources. Your giving makes it possible for us to continue to invest in improvements to our family homeless shelter and expand our food pantry to serve more families in their time of need. On behalf of all the staff of Community Action and the clients we serve, we are honored for Royal Moore Subaru's partnership and support in making Washington County a place where everyone has a chance to thrive. Thank you for helping us to bring Hope, Help, and Change to our community!
---
Royal Moore Subaru Loves Pets!!! - Jane M
All of us at the Oregon Humane Society would like to thank all the Portland Subaru retailers for raising and donating $56,900 to us during the Subaru Loves Pets Event! This tremendous donation will help hundreds of pets and families right here in Oregon! The Oregon Humane Society celebrated its 150 year anniversary this year and we could not do it without the strong support of Subaru and the local Subaru retailers. We would especially like to thank the team at Royal Moore Subaru in Hillsboro for their generous donation of $5,400. Thank you from all the Pets!!!
---
Oregon Humane Society Donation - Crystal Z
We were grateful to be apart of the Subaru Loves Pets event and throughout the months of June and July the event generated $56,900 for the Oregon Humane Society. Thank you to our customers, without you we could not have made this happen.
---
Love the Earth - Mother E
Royal Moore Subaru has been collecting hard to recycle items since April. It is great to see the success of this ongoing campaign and their commitment to make a positive impact on our environment. Thank you to all the staff and customers who have donated. Every bit makes a difference.
---
Share the Love through Sisters of the Road - Crystal D
Share the Love – Helping fight poverty and homelessness in our community. As part of its ongoing support of local communities, Subaru of America, Inc. (SOA) and Royal Moore Subaru presented a check for $20,012.19 to Sisters of the Road. Sisters of the Road was selected by Royal Moore Subaru as their Hometown charity choice for the Subaru Share the Love event. From November 16, 2017 to January 2, 2018 customers who purchased or leased a new Subaru vehicle selected from a list of charities to receive a donation of $250 from SOA. Sisters of the Road is a nonprofit café in Portland's Old Town/Chinatown neighborhood working to create systemic change that will end poverty and homelessness by providing nourishing meals in a safe, dignified space. Sisters of the Road was established in 1979 and nearly 10 years later, in 1987, was the first in the nation to implement the use of food stamps for prepared meals in non-profit dining facilities. Royal Moore Subaru, with the help from Subaru of America and its customers, is honored to help make a difference in our local community. https://sistersoftheroad.org
---
Sharing the Love with Good Neighbor Center - Nate P
During the holidays, the Good Neighbor Center was the local beneficiary of a special promotion at Royal Moore Subaru in Hillsboro. The nationwide campaign, called Share the Love 2016, involved Subaru making a $250 donation to one of a select group of charities, chosen by the buyer of a new car between mid-November and early January.Royal Moore Subaru executives will be at the shelter at noon on Thursday, April 13th to present us with a check for $25,674.54 as our share of the proceeds from that promotion. Royal Moore has indicated they want the donation to support our current expansion project to build classroom space for our programming for homeless children.Ellen Sutton, Chair of the Good Neighbor Center Board of Directors was surprised at the size of the donation. "We were all excited by this partnership with Royal Moore, but I had no idea that so many car buyers would choose to direct Subaru's $250 donation to us. We are most grateful."Construction of the new education space has begun and should be finished by the end of May.
---
School Supply Help for Local Elementary School - Nate P
This year we had the awesome opportunity to raise money for on of our local elementary schools here in Hillsboro, Oregon. They used the money to make sure the teachers had the right school supplies for their children in the class room for 2016-2017 school year.
---
Summer Collection of Food for the Hungry - Nate P
This past June and July we have been collecting food for the hungry here in Washington County. We partnered with the Oregon Food Bank and they provided us with the necessary barrels needed to collect. As usual our customers came through big time! Thanks to everybody who bought that extra can of soup or vegetable and donated it to the hungry of Washington County.
---